Bit of a problem
Airbnb had a problem. Billions of dollars later it still has that problem -- but maybe also a solution. Plus 7 other things I think are worth reading.
I'm Bill Murphy Jr. Welcome to Understandably. Thanks for reading.
If someone forwarded this to you, a nice little gift might be in order. For now, show them you agree with their amazing taste in email newsletters by signing up here!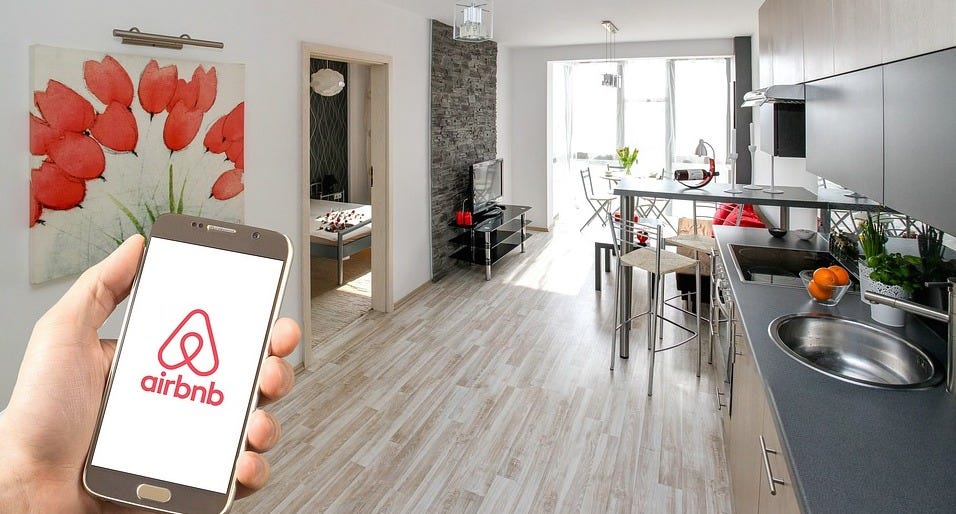 I love a good origin story. Today's is about Airbnb.
It's also about a big announcement Airbnb had to make this week.
But let's do the recap first. It starts with two Rhode Island School of Design classmates living in San Francisco in 2008.
One weekend, they realized that most of the city's hotels were full, with people streaming into town for a big design conference. So, they ran an ad on Craigslist offering to rent air mattresses in their apartment for $80 a night.
Not the 'right opportunity'
It worked out nicely. They half-jokingly called their venture "Air Bed and Breakfast."
And they wondered if it might turn into a real business.
Of course, there's an enormous difference between renting a room in your house and building something big. Their first months and years were rocky.
Cofounder and CEO Brian Chesky later shared the rejection emails he got from five prominent Silicon Valley investors at the time.
Here's what one of them said:
"We've had a chance to discuss internally, and unfortuntely don't think that it's the right opportunity," he quoted one as saying. "The potential market opportunity did not seem large enough..."
A big problem
Still, they were scrappy. The Internet is full of accounts of how they supposedly cross-posted Airbnb listings to Craigslist, and emailed people who had posted vacation rentals on Craigslist to get them to post on Airbnb as well.
They grew and grew, and eventually, investors came around.
Airbnb raised $112 million in 2011. They're now up to $4.4 billion, and on a path to a projected initial public offering. In 2018, they were valued at $35 billion.
Good for them. But, let's be honest. Airbnb has a bit of a problem.
11 million results
It's really the same problem it had it in 2008. It's that objectively, this is an insane business:
Let people advertise rooms for rent, and have strangers stay with them, millions and millions and millions of times.
What could possibly go wrong?
A lot actually.
I get 11 million results when I search for "airbnb horror stories." And that doesn't even count two of the biggest recent headlines about the company:
A shooting that left five people killed and several others wounded at an Airbnb rental in Orinda, California.

A story in Vice that apparently uncovered a scam in which people were posting accommodations that didn't exist as part of an elaborate bait-and-switch operation.
By 2020…
So, if you're Airbnb CEO and co-founder Brian Chesky, what do you do? You announce a new policy:
Starting now, verification of all seven million listings on Airbnb will commence.

Homes will be verified for accuracy of the listing … and those that meet our high expectations will be clearly labeled.

By December 15, 2020, every home and every host on Airbnb will be reviewed with the objective of 100% verification.
Now, you and I, or perhaps millions of others, might have thought this would have been a good idea back at the beginning.
But it wasn't apparently required for professional investors to sink $4.4 billion into the company.
It's only now, with the prospect of the unwashed masses being asked to invest next year, that they're going to make verification a priority.
I'm almost flattered. And it makes for an even better story.
---
Good show
Thursday night is usually date night in the Murphy household: best money we spend all week to hire a babysitter and ensure that my wife and I have at least one night to hang out together.
Last night we got dinner and went to see Michael Franti and Spearhead at the Welmont Theater in New Jersey. Highly recommended.
But, that means I'm wrapping this up late at night. If there's a typo or two, I apologize.
Here are 7 other things worth reading today:
Story ideas and feedback actively solicited. Find me anytime at billmurphyjr@understandably.com, or on LinkedIn, Facebook, or Twitter.