Choose wisely
The ex-CEO of Zipcar goes to Ford. Plus 7 rules for new business partners and another 7 things I think are worth reading today.
I'm Bill Murphy Jr. Welcome to Understandably. Thanks for reading.
If someone forwarded this to you, consider it a subtle hint that they'd really like you to sign up here to receive it in your email each day. Why not make them happy?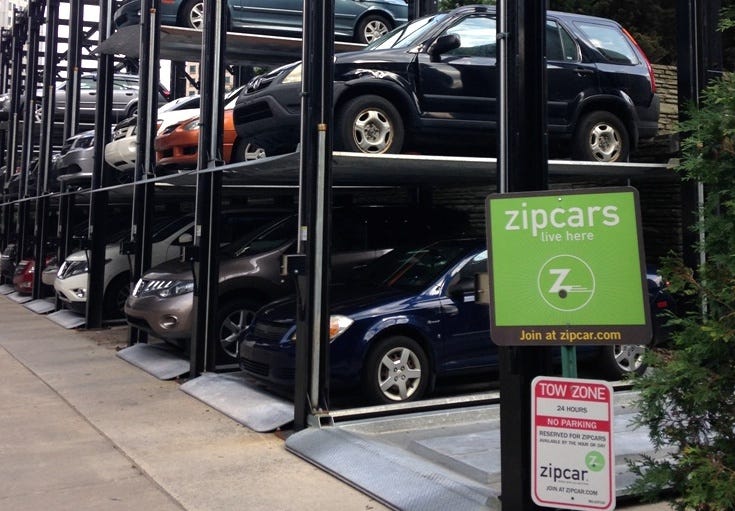 I saw a story over the weekend: The former CEO of Zipcar is taking over the autonomous vehicle unit at Ford.
The mere mention of that company — Zipcar, not Ford — reminds me of a key to success that I've had to learn and relearn a few times:
Who you choose to partner with is important — often even more important than what it is that you partner on.
An idea over coffee
It goes back to an interview I did with the original co-founder and CEO of Zipcar, Robin Chase, in about 2010.
She and her co-founder, Antje Danielson, dreamed up the idea for a pay-by-the-hour car rental service in a 1998 chat over coffee in Cambridge, Mass. It was a groundbreaking idea at the time.
But Chase and Danielson had never worked on anything together before. They knew each other mainly because their kids were in kindergarten together.
And that lack of experience together spelled disaster — even though the company itself survived and saw a nice exit.
'Fascinating'
As Danielson explained a few years ago, Chase fired her in early 2001. Then, Chase herself was replaced by the company's board as CEO in 2003.
It's not really a sad story, in that both women did ultimately make nice windfalls. Zipcar went public in 2011, and it was later acquired by Avis Budget Group for $500 million in 2011.
But the co-founders' friendship didn't survive. As of 2014 they hadn't spoken in a decade, according to The Verge .
Asked for comment, Chase called Danielson's account of their history "fascinating," in that article. (She'd always said in interviews before that Danielson left of her own accord.)
7 questions
Having had a lot of time to think about this — and to interview hundreds if not thousands of successful founders — I've come up with a 7-part checklist for potential co-founders:
Do you have a history together? If not, how will you handle your first big disagreement?

Do you have the same vision for the company? Do you both want the same outcome?

Have you had the hard talks about money?

When you reach an impasse on something, do you know which of you will cast the deciding vote?

Do you understand and agree with each other's level of commitment?

Do you have compatible, vital skills?

Do you agree on how you'll fill other positions?
It's more of a "things to make sure you work through" list than a "forget it, you'll never be successful" list.
But if you're ever in the position of thinking about starting something with somebody you've never worked with before, I hope it might be useful.
Happy Veterans Day to all who served.
7 other things worth reading today
Story ideas and feedback actively solicited. Find me anytime at billmurphyjr@understandably.com, or on LinkedIn, Facebook, or Twitter.