'Do what you love'
Now that we're putting the nail in WeWork's coffin apparently, I can tell this story. (Also, 5 other things worth reading today.)
Hi. I'm Bill Murphy Jr. Welcome to Understandably, my new daily email about "the story behind other stories."
We're just days away from the real, official launch on November 1. If you're not signed up yet, here's the link that will improve your world. (Promise.) Feedback is always welcome at hello [at] understandably [dot] [com].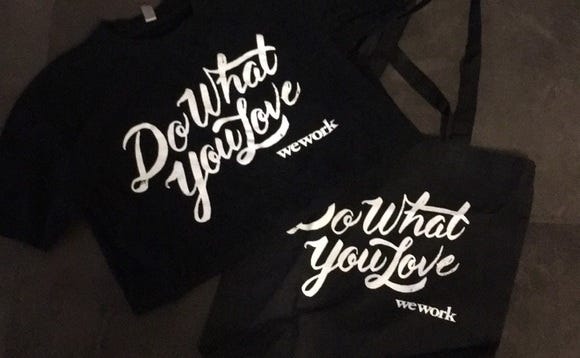 It seems like we're all nearly to put the final nail in WeWork's coffin. So, before time runs out I'd like to make sure that I share my best WeWork story.
It goes like this: A few years ago, before my daughter was born, I was in New Hampshire with my wife, visiting her grandma in a nursing home.
She was frail then, but still beautiful. Toward the end of our visit, my wife's grandma locked eyes with me squarely across the room.
"Do what you love!" she exclaimed.
Wow, I thought. That was a truly poignant and unexpected piece of advice.
Then, I realized what I was wearing: a WeWork t-shirt.
"Do What You Love" was the company's slogan — well, one of its slogans, I guess — and it was written in stylized script across the front of my shirt.
There's something about that phrase. I'm a little annoyed now that WeWork co-opted it, given everything that's happened with the company.
My friend and colleague Jeff Haden wrote some time ago that it's actually terrible advice. Still, I've long thought that the real problem is that it's only half of a fully formed thought.
The other half is supposed to be the preamble, like this: "Find a way to do what you love."
My wife's grandmother passed away last year, at 97. It seems doubly fitting to tell this story now, in the nervous days before I pull the trigger and announce the official launch of Understandably.
I have plans, and I'm certainly going to work hard to make sure it's the best product possible.
And I'm VERY grateful to the many hundreds of people who've signed up so far, ahead of the official opening.
But even after writing professionally for more than a decade, I still get anxious when I hit the "publish" button.
The truth is that I do this because I love it. (I also do it because internally, I really don't have a choice.)
And I'm going to find a way to make sure it works.
(I told part of this story at Inc.com a few years ago.) T-minus just a couple of days until liftoff. Thanks for being here. Here are 5 other things worth reading today:
Story ideas and feedback actively solicited. Find me at billmurphyjr@understandably.com, or on LinkedIn, Facebook, and Twitter.