Essential services
My old boss, professional wrestling, the state of Florida, and a kind of silly thing I used to do in law school. Also, 7 other things worth your time.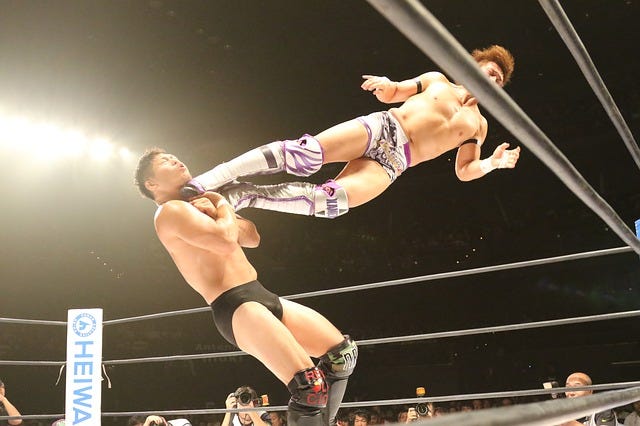 When I was a brand new trial attorney at the U.S. Department of Justice years ago, my section chief was a veteran lawyer named Jerry.
He's since retired, but Jerry was a good boss and a great human being. We worked in the Tax Division, and he had an encyclopedic knowledge of the Internal Revenue Code.
This was a good thing, because I knew very little about it, at least at the start.
More surprisingly however, he also had a deep knowledge of profressional wrestling. The two big takeaways I remember were:
Don't ask fans if they think wrestling is "real."

Every wrestling story line includes at least two main characters: the hero (known as "the face") and the villain (known as "the heel.")
That windup brings us to our docket today, which includes a professional wrestling story. Who's the face, and who is the heel?
Florida Man allows wrestling
The tale comes from Tallahasee, where Governor Ron DeSantis apparently changed the state's lockdown criteria in a way that will allow the WWE (World Wrestling Entertainment) to host live, televised wrestling matches (without an audience) at its studios in Orlando and Winter Park.
As ESPN explained, it's the result of adding the phrase "employees at a professional sports and media production with a national audience" to the the list of essential services that can be exempted from Florida's Covid-19 lockdown.
The WWE, it might not surprise you, concurred with this assessment of its essentiality.
"We believe it is now more important than ever to provide people with a diversion from these hard times," somebody from the WWE told ESPN.
Then, somebody at the governor's office offered additional context, explaining that sports and media production are exempted "because they are critical to Florida's economy."
But can we still say, 'Fight Island?'
To be clear, the edict doesn't specifically say "wrestling," which opens the doors for other sports. The current Major League Baseball plan — Florida and Arizona — would benefit.
Maybe UFC, too. Their plan has been to establish a closed off training and competition site called Fight Island at an undisclosed location. But Florida might be the perfect place now.
(First two times I've linked to "MMA Junkie" as a news source, so there's that.)
What a debate to have, right? It's not like two guys grappling with each other and hitting each other with folding chairs can maintain social distancing. And, I'm not blind to the fact that the CEOs of both WWE and UFC are big political donors.
But, I guess this all comes down to trying to define what an "essential service" is.
But it was $15 an hour
A couple of years before I was at Justice, when I was still in law school, a friend and classmate who worked in the legal department at a big company helped me get a part-time job there.
This happened to be during a very snowy winter, and there were a couple of days when schools were closed as a result. The governor announced that only employees who performed "essential services" should go to work.
I'm sure he meant snowplow drivers and nurses. But, if I didn't go to the office, I didn't get paid my $15 an hour to review boring deposition transcripts and feed hundreds of thousands of pages of discovery into a high volume scanner.
So, my friend and I would go in anyway. We wanted to get paid (and life was pretty mellow on those days, since our bosses didn't show up). But also, we thought it was funny.
By virtue of the fact that I was at work, I reasoned—and only employees providing essential services should be there—ergo I must be essential.
It turns out I was ahead of my time. But maybe, now it can be told, a bit of a heel.
7 other things worth your time
Ideas and feedback actively solicited. If you haven't subscribed, now's your chance! (You can also just send an email to signup@understandably.com.)
If you liked this post, please share it!
One-click review and feedback: