Honorary mom
A painting. And another painting. And another painting. And another ... Also, 7 other things worth your time.
Before we dive in today, who wants to do my job for me?
I'm looking for a good question to ask for a "comment thread" for Friday, assuming I can get the tech to work again. Got any ideas? Reply to this email or post ideas below. (The red "Leave a comment" button" will take you there.) Thanks!
---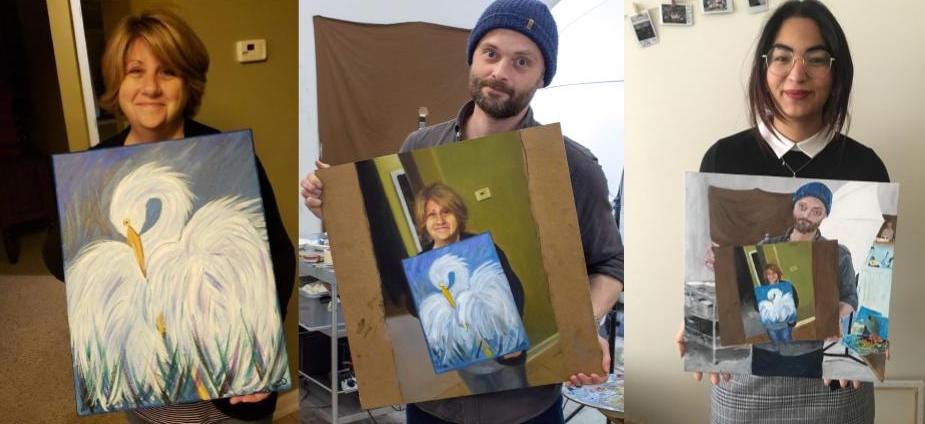 Meet Cindi Decker. She has a great, fun story -- and one that also contains a vital lesson for anyone who's ever had a message they wanted to get out to the world.
Decker is a teacher in Jacksonville, Florida. Last year, she took an art class with a friend, and came home with with her second-ever-in-her-life painting: an egret, or maybe a swan, on a blue background.
Her son thought people would like it. So he snapped a photo and posted it on Reddit. (It's the photo on the left, above.)
"My mom painted this and said no one would like it. It's her 2nd painting," he wrote.
Boom. People liked it. Within hours, tens of thousands had seen it and "upvoted" it. But that's not the crazy part.
A commenter got an idea:
"Someone paint the photo of his mom holding her painting and repost it."
An artist in Sweden named Kristoffer Zetterstrand took the idea and ran with it.
(Zetterstrand's is the photo in the middle, above.)
Clever, right? Maybe you can see where this is going.
A student in Canada named Laila Amer, painted a painting of Zetterstrand holding his painting of Decker holding her painting - and posted it.
(Amer's painting is on the right, above.)
Then, an artist in Chicago, Seamus Wray, raced to paint Amer holding her painting of Zetterstrand holding his painting of Decker holding her painting.
Around there, things start to branch out. Another Canadian artist painted an Amer-Zetterstrand-Decker painting, and yet another one, Traci Sethre, painted Wray holding his paitning of Amer-Zetterstrand-Decker.
Then another, by artist Travis Simpson in Indiana, in which he displays the Sethre-Amer-Zetterstrand-Decker chain.
It goes on and on and on, as another Reddit user diagrammed in this helpful (and slightly insane) flowchart.
It's a cute story, but I think there's also a vital reason why the whole thing took off like this — something that is easy to explain, hard to replicate, and a sort of Great White Whale for so many people who have messages that they want to get out there.
The reason: Pure authenticity. By definition, it's hard to fake.
And you can see it come through in interview after interview that Decker has given about the whole thing.
On Reddit itself: "I am overwhelmed and over the moon how this has turned into a positive movement."

"I am just a very ordinary mum who has had an extraordinary few days," she told the BBC. (I'm guessing she said "mom," but that's how they quoted her.)

"So many people have been so kind. They say, 'Keep us updated and post your next painting.' But I'm not going to. I don't want to wear out my welcome," she told The Washington Post, adding that she'd been nicknamed, "the honorary mom of Reddit."
Lots of people look for shortcuts. They want the accolades and rewards, without being willing to truly give and show themselves. But in these moments, you can get a glimpse of what truly makes people react.
Vulnerability. Authenticity. And a chance for others to create and contribute as well.
7 other things worth your time
This Reddit thing came up before in my Inc.com column. If you liked this post, and you're not yet a subscriber, please sign up for the daily Understandably.com email newsletter, with thousands and thousands of 5-star ratings from happy readers. You can also just send an email to signup@understandably.com. And now, you can also get it by text at (718) 866-1753.
And of course, please share Understandably! Seriously, that's the #1 thing we need right now, is for people who enjoy this newsletter to encourage friends and family to sign up as well. Thank you!
One-click review and feedback: