Discover more from Understandably by Bill Murphy Jr.
No algorithms, no outrage. Just an essential daily newsletter trusted by 175,000+ smart people who want to understand the world, one day at a time. Plus bonus ebooks (aka 'Ubooks').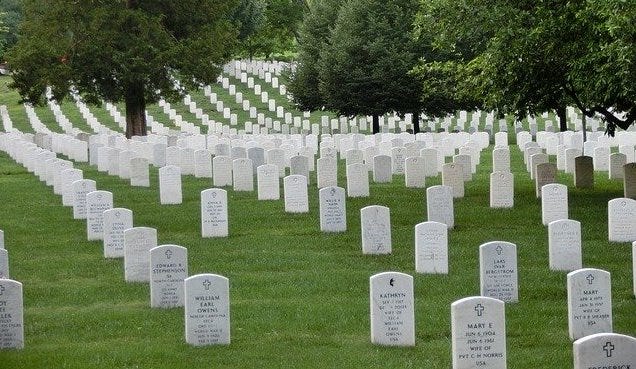 Today is Memorial Day. If there are people whose sacrifices you mourn personally, my thoughts and prayers are with you. Here's who I think about:
Todd Bryant, a 2002 West Point graduate who was killed by an IED in Iraq on October 31, 2003. He'd just recently been married.

Tim Moshier, who was Todd's roommate at the academy. He was also killed in Iraq, when his AH-64 Apache helicopter was shot down on April 1, 2006. He left a wife and a young daughter.

Jacob Andrews, who served an intense year of combat in Afghanistan, came home with severe PTSD, and who took his own life in April 2011. His girlfriend was pregnant at the time.
Bryant and Moshier were featured in my book, In a Time of War, on West Point. I wrote about Andrews a few years later, when I was a reporter at the military newspaper, Stars and Stripes.
I actually never met any of them in person, but I researched and reported everything I could find. For In a Time of War, I did more than 600 interviews and traveled all over the United States and Iraq, for what turned out to be a 350-page book. (In retrospect, perhaps efficiency was not my strong suit at the time.)
Example: I talked with dozens of people who knew Todd Bryant—the soldiers he served with, his family, the combat medic who tried in vain to save him, his friends from growing up in California—heck, even the girl he took to the senior prom in 1998.
I remember meeting his widow, in what became an emotional, three-hour interview at a restaurant in Virginia. People around us probably wondered: "What kind of a jerk breaks up with his girlfriend in a Panera Bread?"
I tried to do the same kind of thing for Tim Moshier, interviewing everyone. In fact, while Tim and I never met in person, we connected over email while he was deployed, as I was trying to interview him about Todd.
But then he died a few days later, before we could talk.
My book came out. I wrote another one, and another. Eventually, I spent a year working at Stars and Stripes. I was reporting on a story about a disturbing trend: U.S.-trained Afghan police turning their weapons on American soldiers— what became known as "green-on-blue" attacks.
I tried to track down every soldier who might have been present at one such incident a couple of years before. Among those on the list was a "Specialist Jacob Andrews." I couldn't find him, but I found an address for his mother.
She replied the next day. I still have her email:
"Mr. Murphy it is with a shattered heart that I have to inform you that Jacob took his life on April 5, 2011 as a direct result of PTSD and TBI. He begged for help … He actually said to me he had less to worry about in Afghanistan. He just had to worry about staying alive and keeping his 'boys' alive."
Jacob was enlisted (not an officer), with a GED instead of a high school diploma. He served in combat under tough conditions. He saw fellow soldiers killed, and he experienced very difficult things.
One death in particular affected him — a good friend crushed to death under a Humvee.
At the very end of his tour, while waiting for the plane to come home from Afghanistan, he got drunk with some buddies (alcohol was forbidden), was severely punished for it, and fell into a cascade of problems that ended with his discharge and suicide.
There's so much bureaucratic madness involved. It gets me angry even now. (You can read the story here, if you're interested.) His mom, Lauri Turner, ultimately went to war with the system over what happened.
She later told me she thought it was an act of God that I happened to email just after Jacob's death, because my article documented everything that happened to him. Ultimately, she got her son's military records fixed posthumously, and even get survivor's benefits for his unborn son.
Friday evening, I accidentally messaged Lauri—literally years after we last talked. (My daughter had been playing with my phone; Facebook Messenger was open when she handed it back to me.)
We caught up a bit about what she's been up to. She's moved outside of Kansas City, and she's building a house. Everybody's life goes on, as they should.
The young wives Tim and Todd left behind are both remarried, and have new careers and children. There are nieces and nephews, milestones, memories and legacies. But that's actually the whole point of Memorial Day: to remember the sacrifices of the fallen while the rest of us keep living.
If there's someone in particular you're thinking of today, I hope you'll let us know in the comments. If not, I hope you have a great holiday, and enjoy the unofficial beginning to this strangest of all summers.
But maybe also, take just a minute to remember. Everybody has a story, even those that were cut short too soon.
7 other things worth your time
If you liked this post, and you're not yet a subscriber, please sign up for the daily Understandably.com email newsletter, with more than 4,000 5-star ratings from happy readers. (Yes, if you watch this space closely, the number of 5-star reviews has gone up again!) You can also just send an email to signup@understandably.com.
---
And of course, please share Understandably! Seriously, that's the #1 thing we need right now, is for people who enjoy this newsletter to encourage friends and family to sign up as well. Thank you!
One-click review and feedback: