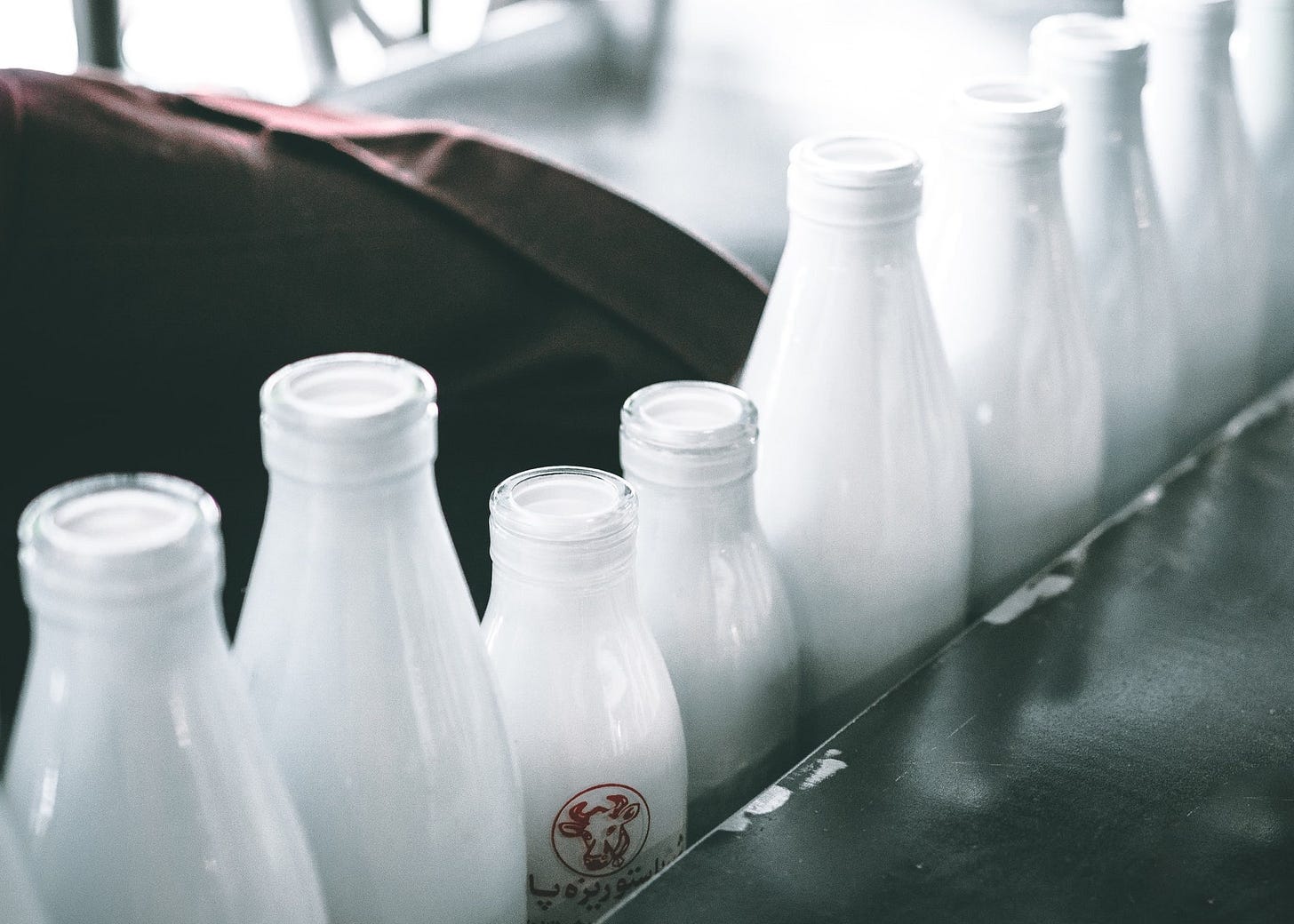 Change is hard, and right now we're all going through a lot of change. Maybe that's why I liked this small story so much.
It's about Doug Wade Jr., the CEO of Wade's Dairy, based in Bridgeport, Connecticut. It's a true family business going back well over a century, and Wade has worked there forever.
He recalled recently what it was like tagging along on delivery runs with the company's milkmen when he was a kid back in the 1960s. Almost every house on every street was a customer, he told The Wall Street Journal ($). But there were no refrigerated trucks, just a step van filled with bottles.
No seatbelts -- heck, not even a proper seat. "You sat on a milk crate," he said. "You just bounced around the road. Every bump you hit, it was just clink clink clink."
It sounds like ancient history, and in fact Wade's Dairy shut down its home delivery service in 1992, as milk became cheaper at grocery stores, and as dual-income families became the norm. (People weren't home to get their deliveries.)
In an instant, however, it's now all changed. Thanks to Covid-19, almost everybody is home, and people want to avoid going to the grocery store if they can.
Last month, Wade launched a new, 21st century home delivery service: milk, eggs and cheese, with a $10 fee per crate. There's lots of oat milk and almond milk now, and less cow's milk, and more than 250 customers signed up so far, pulling in $10,000 a week for the company.
Now, we have to temper that positive figure against two other facts.
First, although it's early for this new iteration, the dairy delivery service used to have 3,000 or more customers during its heyday. So we're nowhere near that yet.
And second, while this is a great new revenue source, I'm not sure it makes up for all the ways Wade's was getting pummeled as a result of Covid-19.
After schools shut down, for example, the company was stuck with 400,000 half-pint cartons of milk. (Freezing the non-fat varieties meant they only lost about $8,000 in inventory according to the WSJ.)
Separately, Wade's Dairy is potentially out another $250,000 on accounts receivable from clients who can no longer pay. They're also not selling much to restaurants or to the shuttered amusement parks that normally start buying ice cream this time of year.
Still, I like how this story is really a clear, easily understood example of resiliency—and a fairly quick reaction to changing customer needs.
We're all trying to do that that now. Companies that can no longer offer their core products and services are pivoting on the fly to find new things to offer. And some people who have lost jobs or personal opportunities are going to find that the stressful experience leads them to possibilities they might never have explored otherwise.
Sometimes, the opportunity is almost hiding in plain sight. I mean, Wade's Dairy delivered milk for a century before it stopped. In retrospect anyway, it almost seems like a no-brainer.
Of course, I'm not saying that the pandemic and related economic calamity aren't painful. I wish all this hadn't happened. As I told a friend the other day, I've been to the mountain and I've been to the valley myself a few times since this all started.
But, I also find my creativity has been in overdrive. I guess there's nothing like a completely changing business landscape to focus the mind.
Anyway, I think I'm going to adopt this little story as one of my positive mental cues: If you get stuck and down, and need a nudge in the right direction, remember the milkman. There's probably a similar move for you to make, too—and it might even look obvious in retrospect.
Quick comment
Speaking of ancient history, we had more technical problems Friday with the comment thread. My apologies to anyone else who tried to chime in and wasn't able to. I'm trying to get resolution so it doesn't happen again.
7 other things worth your time
If you liked this post, and you're not yet a subscriber, please sign up for the daily Understandably.com email newsletter, with more than 3,500 5-star ratings from happy readers. (You can also just send an email to signup@understandably.com)
---
And of course, please share Understandably! Seriously, that's the #1 thing we need right now, is for people who enjoy this newsletter to encourage friends and family to sign up as well. Thank you!
One-click review and feedback: