Target Thrived While Other Retailers Died. This Short Story Explains the Difference
What's the difference between an online retailer and a brick-and-mortar one today? Plus 7 other things worth reading.
We're a few days into the 2019 holiday shopping season. If you're looking at it from a business perspective there are two key statistics:
Overall sales are up compared to last year.

However, the brick and mortar portions of those sales have fallen 6.2 percent.
Obviously, that means we're shopping even more online, but it's more interesting to me what it doesn't mean. (Not anymore, anyway.)
In short, it doesn't necessarily mean good news for Amazon, and bad news for retailers like Walmart and Target.
The reason: the dichotomy between digital merchants and and brick-and-mortar retailers is disappearing. The big ones are all-in on both sides.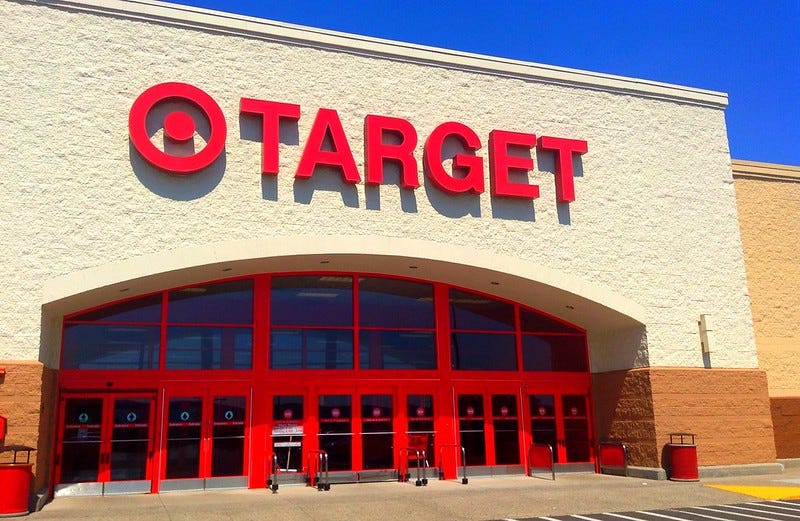 Recently, I traced how Target survived that convergence—and even thrived—after it did something that seems insane with the benefit of hindsight: it outsourced its entire digital operation to Amazon nearly 20 years ago.
It's a fascinating bit of history, and one that people have already started to forget.
I'm Bill Murphy Jr. Welcome to Understandably, a daily email newsletter.

If you're new here, why not sign up and get it every day?
Target, Borders, Circuit City, and Toys R Us
Think back to 2000 and 2001. E-commerce was still new, and big retail leaders thought of brick-and-mortar as their core business. Online sales amounted to barely 1 percent of the industry.
Amazon hardly seemed a threat. It was a small fraction of its size today, and it had never turned a profit. In that context, it seemed perfectly reasonable that:
In August 2000, Toys R Us would announce a a 10-year exclusive partnership with Amazon.

In April 2001, Borders, then the second-largest U.S. bookstore chain, would strike a deal to let Amazon take over its website.

In August 2001, Circuit City, then the number-2 consumer electronics chain, would put together a deal with Amazon.

And in September 2001, Target would enter into a similar deal. (In fact, it was announced in the early morning of September 11, 2001.)
Within a few years, as Amazon grew many multiples of its original size, all of these partners started to see the writing on the wall. But for most of them it was too late.
The Target deal
Amazon wasn't about to go quietly, either. For example, Toys R Us needed a lawsuit to get out of its Amazon deal. Ultimately, the company closed down in 2018.
Borders got out in 2007, but lasted only four more years.
And, while Amazon grew its electronics business to $1 billion a year by 2004, Circuit City was on its own, in bankruptcy and closing its stores just a few years later.
Out of all of these brick and mortar retailers, only Target is really still alive, largely for two reasons.
First, because it got out of its deal before it was too late—just barely.
"They learned a ton on our dime," former Target executive Casey Carl, who later became Target's chief strategy and innovation officer, said years later.
Second, when it did make the split, it no longer thought of digital sales as an "add-on," and it poured literally billions of dollars into building its own digital operation.
Your point of comparison here is Toys R Us, which promised to put a relatively paltry $100 million over three years behind its online product, and long after it left Amazon. It just wasn't enough.
'Frankenmonster'
Granted, the first version of Target's site had issues.
Carl later called it a "horrific, ... monolithic stack of code ... [and] a frankenmonster of a website."
But today, as we've seen, times have changed. The worst seems over.
Sales are up, Target's most recent earnings report beat forecasts, and parts of its digital effort—like in-store pick up and same-day shipping—are getting a lot of credit.
I talked about this with Lee Schafer, a columnist for Target's hometown newspaper, the Minneapolis Star-Tribune, who has written extensively about the company. He:
"Amazon is extraordinarily good at technology and logistics, so when Target decided to do this on its own, it was a huge tech problem and [took] years and a lot of money to catch up. ... I think they deserve a lot of credit for getting back here."
It's easy to imagine an alternate history, however, in which which Target didn't move quite as quickly, and stayed tied to Amazon until it was too late.
The key takeaways: Identify your core business (for Target it was retail, not just in-store retail), move quickly, and be willing to invest when the need becomes clear.
7 other things worth clicking on today
I originally wrote some of the analysis of Target earlier in the year for Inc. Ideas and feedback actively solicited. Find me anytime on LinkedIn, Facebook, or Twitter or via email at billmurphyjr@understandably.com. Be excellent to each other.