Discover more from Understandably by Bill Murphy Jr.
No algorithms, no outrage. Just an essential daily newsletter trusted by 175,000+ smart people who want to understand the world, one day at a time. Plus bonus ebooks (aka 'Ubooks').
This call is now being recorded
Here's the transcript of my interview with Hilary Potkewitz about her article in The Wall Street Journal, on putting together a COVID-19 shopping list.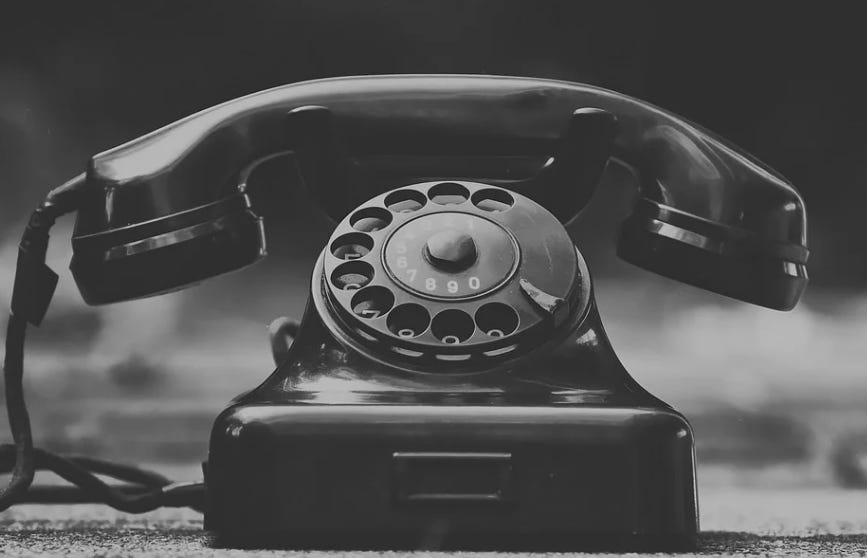 Funny how things happen—I've thought for a while of doing a series of Understandably podcasts.
I wanted to call the whole thing, "This call is now being recorded," simply because that's what Google Voice announces when you press #4 during a call.
Out of nowhere I got the chance to do one of these—after interviewing Hilary Potkewitz about her Wall Street Journal article suggesting a shopping list for anyone who might wind up caring for a Covid-19 patient.
You can listen to our interview here, or read the transcript below. Also, let me know what you think of the whole idea.
---
Moment of levity that I only realized now, as I'm formatting this: The reporter that I interviewed here is named Hilary Potkewitz. Mine is Bill Murphy Jr. So, we wind up with an unintended Clinton vibe. I felt like I had to acknowledge that.)
---
Bill:
All right. Hilary, can you hear me? This is Bill Murphy. How are you?
Hilary:
I am great, thanks.
Bill:
So I have with me today on the phone, Hilary Potkewitz, who's a writer in New York and she wrote an article for the Wall Street Journal that I just really wanted to share with the readers of Understandably.
It's just a really good layout, from a layperson's perspective, of what to do if somebody actually gets Covid-19 in your house. A lot of us probably don't want to rush to the hospital right now, even if we're concerned, because hospitals are quickly becoming unpleasant places to be.
You know, big salute to all the medical workers and professionals that are there doing it. But I think the fewer of us that have to go is probably the better for them.
So you just wrote a great article and I'd love to go through it with you a little bit.
Hilary:
Thank you.
Bill:
You're welcome. You're welcome. It's very good.
One of the first things that I thought would be really good to go through is, you kind of talk about what people should buy, what you should try to have on hand ahead of time, in case somebody in your household gets this.
Hilary:
Sure. So, just to try and organize things. You know, I talked to a bunch of doctors at top hospitals all over the country and things can boil down into three categories.
There's supplies that you need for isolation and cleaning supplies that you need, like medical type supplies, and then nutritional supplies I guess.
So, the most important thing is on the safety, the cleaning and isolation part, that whoever the sick person is needs to be isolated from the rest of the family, either in a separate room or if possible with their own bathroom.
But a lot of times that's not possible, so you just need to get them in a separate area and they need to have their own stash of tissues, paper towels, wipes and soap and warm water.
Bill:
Okay. So separate from everyone else. Basically, you don't want to be sharing the tissue box and whatnot.
Hilary:
Exactly. You just don't want things to be passing back and forth. I mean, that person should stay as isolated as possible. And then, everyone needs face masks. I mean the sick person definitely needs a face mask and anyone who's going to be interacting with them should have a face mask that covers their nose and mouth.
I know there's a lot of stress about shortages and the availability of medical masks. So what the doctors I spoke to said was the surgical mask is ideal, but since there are shortages, you really just need to make sure that your nose and mouth are securely covered.
So it can be a scarf that's like wrapped pretty tightly around your face or the, you know, if like hardware stores, the Home Depot, whatever you see people wearing those masks, if they're going to be doing sanding projects, painting or whatever. The point is that it just needs to be like securely covering your face and mouth, be so that if you sneeze, it doesn't, you know, spew everywhere.
And also if you're taking care of someone who's sick, the point is they might cough or sneeze suddenly. And as the caregiver you might not be able to turn your face away in time.
So basically you just need to make sure that your nose is not covered. And people who wear glasses that's even better because then your eyes are also protected.
Bill:
Got it. Got it. So sounds, if I'm reading this back, I mean, I know we don't all have a stash of N95 masks in our houses and we probably shouldn't right now anyway. You should probably …
Hilary:
Yeah the doctors said, N95, you don't need at home.
Bill:
Yeah, but kind of, you know, it sounds to me like a bandana is better than nothing. A securely fastened, makeshift mask might be better than the bandana. A sanding mask might be better than something you made at home.
Basically don't let the perfect be the enemy of the good. Is that the notion?
Hilary:
Exactly. And the thing with the bandana, because you know, for a few days I was walking around with that. I felt like a bank robber or something.
The problem with the bandana is that it's open under the chin, right? So if, if I, if someone sneezes wearing a bandana, everything just spews out the bottom. So if you're gonna wear a bandana, I guess, tie [it] into your turtleneck or something, the point is that you really want to have something sort of secure around your nose and mouth.
Bill:
Got it. And as I looked on your list here, I'm just going to look at your article: bleach, face mask, which we talked about, gloves, meaning I guess latex or rubber, ideally, hand sanitizer, which is more expensive than gold now, but you can make your own and I'll link to something to how to do that. Laundry detergent, a nail brush, which I would not have thought of, but that makes sense.
Hilary:
Right. I hadn't thought of it either, but you know, those nail brushes are super useful with soap. You can really get under there. And of course, you know, a doctor recommended that and I was like, Oh, that makes sense. They're all, you know, you, [on] TV, you see them scrubbing their entire arm, I'm sure.
But the thing about the gloves that it's important to remember is that if you're taking care of a sick person, you're going to be emptying the garbage, doing their laundry, things like that.
So if you're going to be touching their laundry, make sure that you wear gloves and if possible, put a liner in the laundry bag or basket rather so that you don't like contaminate the laundry basket with germs, I guess.
But the point is that most people are going to have a shared bathroom, right?
So the sick person is gonna make a little excursion out of their room to go to the bathroom and you really need to wash everything attached to the doorknob, the bathroom sink, the tap, the toilet lid, those things.
Apparently the doctors said the virus likes to be on nonporous surfaces, like, you know, porcelain or sink, you know, whatever, like ceramic, things like that. So that's really important.
And, all the healthy people should remove their toiletries from the bathroom while the sick person — during this isolation period because you don't want your toothbrush in the same room with, you know, flying particles, aerosolized particles.
And, it's much easier for the healthy person just to keep their toothbrush and face cream and whatever in their own space and just bring it into the bathroom when they use it rather than leaving all of these things kind of festering in a small confined damp space.
Bill:
You know, Hilary, I read your article this morning before I went to take a shower, and I was so aware afterward of taking my toothbrush out of the same holders, my wife and daughter, or there's all these little things I thought…
Hilary:
Toothpaste! Everyone uses the same toothpaste tube and I don't know if you like it, so you have to think about it like, Oh wow, I'm going to need to watch the toothpaste tube. Maybe you'll just give the person, the sick person, their own little travel toothpaste tube because it's really, you know, it's so much easier to just try and prevent any touching of things than it would be if someone got sick.
Bill:
Well that's a good thing to think of what we think of stuff to buy ahead of time is like grab another tube of toothpaste, soap and whatever else. Yeah, yeah. Got it. Okay, cool.
And let's go through medicine. Maybe I'll just kind of, some of the things that popped out at me, you know, cough drops and over the, over the counter cold medicines. I'll come back to one in a second here. saline nasal spray, which makes sense. Tylenol or acetaminophen. This is where I mispronounce this word, acetaminophen. and I know we've seen back and forth about whether ibuprofen is, indicating higher, you know, a, a worse outcomes.
Did you, did you get into that with any of the medical people that you talked with?
Hilary:
Sure. I mean most of the doctors, you know, they said that they've tried to read the studies and there doesn't seem to be any enough definitive data. Most of them just said you, there isn't really enough data to say whether, ibuprofen is a problem or not.
So I would say half the doctors said take either one. The other half are like, you know, we really don't know. You know, just may as well stick with Tylenol unless you have like a problem with acetaminophen.
But the other thing that's really important to remember if there are kids involved is that, you know, children's doses, like children's Tylenol is different than infant Tylenol for example. And so you want to make sure that you have the right dosage for whatever size child you have because liver, because they can really affect the liver and that's important.
Bill:
Very important. Very good. And you mentioned two actual pieces of equipment. One of the thermometers I think most people probably have or everybody's very familiar with, but the other is the, the pulse oximeter. Do you want to talk about that a little bit?
Hilary:
Sure. A pulse oximeter is, they're pretty small. It's a, it's basically something that's this kind of a size of a candy bar. It clips onto your finger and it measures your pulse and the oxygen saturation level in your blood. And those, numbers are important because it basically tells your doctor how well your lungs are functioning. Like how well they're moving oxygen through your blood. And because the Covid-19 can affect your breathing. That's why people are recommending a pulse oximeter at home.
And you know, we're not doctors, so I can't say what the numbers mean, but the point is that you're in touch with your own doctor. If you get sick, you're going to be in touch with the doctor, whether over the computer or on the phone and they, and you'll be able, they'll be able to better monitor how you're you're doing or how your loved one is doing.
because you can tell them, okay, so we just need the pulse oximeter reads this percent, you know, do, do we need to go to the hospital or no, that kind of thing. Most of the dogs I spoke to said, you know, if you can find one, it's great. They're not super expensive. they're small and it can be reassuring if it's just someone who's really sick and is, you know, have breathing is an issue. It can be reassuring just so that you can like do something. We can measure how their lungs are working.
Bill:
Got it. Got it. Yeah, no, that's, that's interesting. I think, I've certainly noticed that and just, you know, going for a regular checkup that, in the last few years I seem to use those pretty routinely as they check your blood pressure and tell me I should lose some weight and whatnot.
But, but I will say the one thing, at least in New Jersey where I am, I don't know about New York or where other readers and listeners are, I've found that these are actually a little bit difficult to find at this point. I think there's suddenly a, an uptick in people wanting them.
So you might have to have to look a bit or might not be able to get them, but, but certainly get to know about, and I, you know, actually as I'm thinking about this as well, at least in our town, there's a pretty robust Facebook group and people have been very helpful. And I think my wife was mentioning she'd seen people sharing, these already, you know, nobody's sick in my house, but if, if you're monitoring it yours, you're welcome to borrow our little device that we picked up so that.
Right, but just make sure that you clean it and touch it with rubber gloves. You're taking it from someone else's house.
Bill:
100%
Hilary:
The cleanliness thing though, the hand hygiene as doctors call it really, everyone emphasized like, if you can't do anything else, this is the most important thing that you can do.
And you had mentioned the bleach thing, and you can make like a home bleach solution with five tablespoons of bleach per gallon of water. So I,
Bill:
Let's talk about just a food and drinks and whatnot to have on hand. It kind of goes to how do you, how do you actually care for someone. Looking at your list if you want to talk about it a bit. It struck me largely as, you know, nothing really unusual. Things that you would probably get if somebody has a flu or some sort of bug and they were home for a few days. It's just that this might last longer. But maybe you can talk about that a bit.
Hilary:
Sure. everyone talked about the importance of drinking a lot of fluids. and one thing that they mentioned, people talk about electrolyte replacement drinks and there are all kinds, but a lot of people like, quickly go to Gatorade or some kind of sports drink. And the doctor said that's fine, but Gatorade and things like that and have a lot of sugar, so you really need to cut it in half with water.
Everyone recommended cutting like any sort of sports drink in half with water for kids and for adults because one thing that sugar does, sugar can worsen gastrointestinal issues and in some cases, COBIT 19 does cause like diarrhea or other GI issues and sugar can make that worse. And sugar free drinks that have artificial sweetener are also not a good idea because artificial sweetener can make gastrointestinal issues worse.
So that was something that I found kind of interesting. and the other part of it is making sure to keep hydrated because dehydration can raise your body temperature and make your fever worse.
Bill:
Got it. Though that's a good point about the sports drinks too. And as I looked: a multivitamin and vitamin C tablets yeah.
Hilary:
And the doctors were mixed on that. I mean, half of them said, you know, there's really not that much data to show that vitamins and supplements really help, and the other half are like, you know, vitamin C can't really hurt. You know, it could help so you may as well take some extra vitamin C or take a multivitamin with zinc, that kind of thing. That was definitely more mixed.
Bill:
Speaking of "couldn't hurt." I liked that the one specific food you identified, was chicken soup.
Hilary:
Yes. Chicken soup. Yeah, exactly.
Bill:
Like the old joke, it couldn't hurt. got it.
Hilary:
And the one thing that was interesting is that one of the, I spoke to a functional medicine doctor and one of the things that he mentioned is that there are, some spices and herbs that are known to have like antiviral qualities or properties.
And so he suggested to load your chicken soup with fresh dill, ginger, oregano, because they have other properties that can help the immune system. and again, the part of it is that if you have a balanced diet, like you're good. But I think a lot of us maybe don't have the, you know, we don't eat as much of all of the different colored nutrients as we should. And sometimes, it's a good idea to remember that, you know, fresh, whole foods to really help your health.
Bill:
Okay. Let me ask you, what's your sense having talked to these doctors, when is it time to call the doctor if somebody's concerned that they're, that they might be infected or might be showing symptoms? Is it, I assume it's not with every sniffle, but…
Hilary:
No, I think it's definitely, especially when we're all isolated and you can't even go to the doctor, I think it's a good idea to be in close touch with your doctor just to make sure you can reach them. it's so hard to say. I mean, people have all kinds of other, if there's asthma in the family or diabetes, you know, I can't really say when you should talk to your doctor, but I would say if you're feeling sick and you're concerned, you may as well call and have a conversation with your doctor who like knows you and got it.
Bill:
Yeah. And for what it's worth, if anybody, I always, I always feel a little funny calling the doctor if it's, if I think it's something slight. But, but I've done it myself here and I've just kinda been in touch with my doctor. I had a quick just consultation, hey, he knows I've got asthma and I want to control it and things like that and just, just got a little bit of, you know, "straight from the doctor," so to speak. "Here's when you should start getting concerned. Here's when you probably don't have to be."
And that was just pretty reassuring for me. So, as I'm holding up in my house, like everybody else i's.
Hilary:
Right. One of the reasons that we wanted to do this story is that, you know, more and more we see all the, all the data that's coming out or then they say really, you know, 80% or the vast majority of Covid-19 cases don't require hospitalization.
And as you mentioned, hospitals are getting pretty full. Emergency rooms are a little bit crazy right now. So most people are really going to be riding this out at home.
And so we thought, okay, you know, rather than sort of waiting around and worrying and crossing our fingers and wondering, you know, who's going to get it. Part of it is like you can really, you can prepare yourself at least like, even if you know you can't cure it, but just the idea that you can make sure that you and your family are prepared and ready for when this, when something does happen.
And I will say talking to a lot of doctors, one thing that was reassuring to me is that they really felt like, you know, there are things, there are things that you can do to make this better or you could, there are things you can do to protect your family.
and it's not just like this, you know, plague that people are just sitting in waiting for. That there are sort of constructive things and helpful things that you can do to keep the rest of the family healthy and to sort of make the sick person more comfortable and help them recover.
Bill:
Got it. And then just at the end here, I'm reading your article and some of the things we discussed, it really seems like this person, this sick person is almost going to be an isolation themselves within the house.
I mean barely leaving the bedroom. You talk about if somebody is the caretaker leaving the food outside for the outside the room for them to pick up. am I reading that correctly? They're really taking
Hilary:
That's what people suggest. That's what the doctors are suggesting. I mean, you know, especially with with kids, I think it's really hard.
And especially with the mask, I mean, not that you can't, there's no way you can get a little kid to wear a mask. But, the parents can definitely wear a mask and you're also not going to leave a kid alone in her, in a cell for two weeks. So obviously there's gonna, there's gonna be some interaction there.
But I think the point really the point is to try and isolate the sick person as much as possible because this seems so contagious that you know, you better to be safe than sorry.
Bill:
And yourself for two weeks? Really. Is that, am I reading that right?
Hilary:
They said yeah, they said that's what the doctors have said two weeks. quarantine and obviously, you know, check with your own doctor so then they can depend on the or when you're, how long you've been fever free.
But everything that I've read generally has said like a two week isolation period at least.
Bill:
Got it. And the one other thing I was wondering, is there any, not everybody actually lives with, you know, many other people or there's a possibility of, you know, a couple where they both happened to get sick at the same time.
Was there any advice about self care about, you know, if you're, if you're in a position where yo're sick and there's nobody really to take care of you, right?
Hilary:
If, if you're doing self care, I think the most important thing is to stay hydrated, to have, you know, just over the counter cold medication at home. you know, if you get uncomfortable and especially if you're alone, it's important to be in touch with your doctor. because, you know, yeah, there is a point where it gets difficult to take care of yourself.
The one thing I will say that's kind of good about being home alone is that you don't have to wash every single door knob all the time. Since you're the only person using things. but yeah, I mean it's probably going to be rough, but I think that it's important to, you know, remember to, keep hydrated fluids and be in touch with your doctor.
And I, I did want to mention, I think which we didn't touch on was you mentioned in the article even possibly having, you know, dedicated cutlery for the sick person. Obviously you're going to wash it every time, but you know, just seeing another way to isolate them from the other people in the household.
Hilary:
So, right. I think part of it too is that if you're taking care of a sick person, if you're going to remove their plates and cutlery and glasses, then the healthy person doing that should be wearing gloves.
Bill:
Got it. Really good. Okay. Well, Hilary, this has been really helpful and I appreciate it. Like I said, I think this is, you know, at the outset, hopefully, hopefully nobody listening to this or reading this will have severe reactions to this, but there's a good chance that some of us will wind up being caretakers.
And, I think it's really useful to have this there as a resource. And also just to think, great, here's your shopping list before anything even happens. So thank you for doing it. I appreciate it.
Hilary:
Sure. Thank you. Take care.