Uncle Bill is awesome
Clay, notes, emails, a bunch of signs, a t-shirt, a Fiverr video, a baby, and (almost) an airplane. Plus, 7 other things worth your time.
I was an uncle for about a decade before I became a dad, and I have to say I'm pretty good at it, in my own way. (Not that it's a competition.)
But I'd like to share with you a story that I think exemplifies my uncle-ing style. Then, I want to invite you to share the story, for reasons that will become apparent.
It begins about six or seven years ago, when my niece Chloe, who is my wife's sister's daughter, and who can do no wrong in my eyes, was 10 or 11.
She had a book of activities for kids, and one of the activities was a game called "The Game." The rules were simple and bizarre:
Everyone in the world is playing The Game, whether they want to or not.

There is no way to win The Game. However, you lose The Game by remembering that you are playing The Game.

When you lose The Game, you are required to announce your loss.
For the next few years, this was my "thing" with Chloe: playing The Game, by continuously trying to remind each other of the fact of The Game.
We got pretty creative. A lot of it would play out at her grandparents' house (my mother and father-in-law's). For example, at Christmas, she once wrapped up a gift for me that was simply the words "You just lost the game," spelled out in clay.
Therefore, indeed, I lost the game.
Other times, we'd leave notes for each other around her grandparents' house. Or she'd send me emails that started out normally but then abruptly ended: "You lost the game."
Of course, I had to outdo myself each time I played. For example, I got some of her cousins to help me post signs reading, "Happy Birthday Chloe! You Lost the Game! Boom!" on the last couple miles of the drive to her grandparents' house—just before her birthday.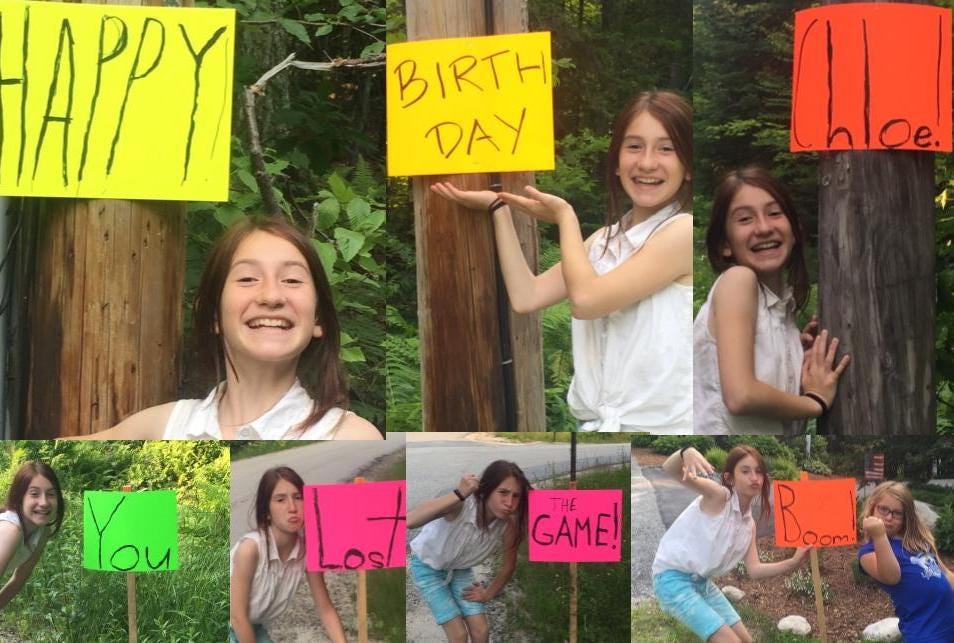 And I ordered and sent her a t-shirt that read: "I just lost THE GAME (but my Uncle Bill is awesome)."
And I hired someone on Fiverr to sing, "Chloe, You Lost the Game" to the tune of "Happy Birthday to You."
I think it was that year I also got her a birthday cake with "YOU LOST THE GAME" on it instead of "Happy Birthday."
When my daughter, her cousin, was born, I wrote "You Lost the Game" on her onesie and sent the photo to my niece—among her very first baby pictures.
Around this time however, I started to think that maybe I was taking this too seriously. One clue was when I caught myself researching what it would cost to hire an airplane to tow a "You Lost the Game" banner over my niece's house.
As Chloe pointed out, it wasn't really fair that I had a car and a baby and a credit card, while she was just a kid.
Life goes on, and by then she was probably getting a little old to play this game with her uncle, awesome as he was. The suave and coolness scale was tipping heavily in her favor.
So we retired The Game. Or at least, suspended it.
Only, this summer, I learned something—something that maybe a few readers will know already.
It's that The Game didn't originate in Chloe's book. It began years ago, and it's had a true resurgence over the last few years.
In fact, when I met one of Chloe's friends earlier this summer and wound up telling her this story, she replied: "Of course, The Game. It's super-popular," and explaining that she planned to wear a t-shirt saying "You Lost the Game" to college orientation in September as an ice-breaker.
A little more research, and I realized that while Generation X folks like me have little clue, and Boomers, forget about it—Millennials are largely very familiar The Game, and Generation Z is all over it.
Which leads me to why you should share today's newsletter, especially if you have Zoomer kids, or grandkids, or nieces or nephews, or even just acquaintances.
It's that they're all playing, whether they know it or not (but they probably know it). And now, assuming you send this to them: They just lost the game.
Of course, since I made you think of it, you lost, too. As did I.
By the way, in case you get sucked in like I did: between $500 and $1,500 is what it costs to hire a plane to tow a banner.
7 other things worth your time
If you liked this post, and you're not yet a subscriber, please sign up for the daily Understandably.com email newsletter, with thousands and thousands of 5-star ratings from happy readers. You can also just send an email to signup@understandably.com. And now, you can also get it by text at (718) 866-1753.
And of course, please share Understandably! Seriously, that's the #1 thing we need right now, is for people who enjoy this newsletter to encourage friends and family to sign up as well. Thank you!
One-click review and feedback: